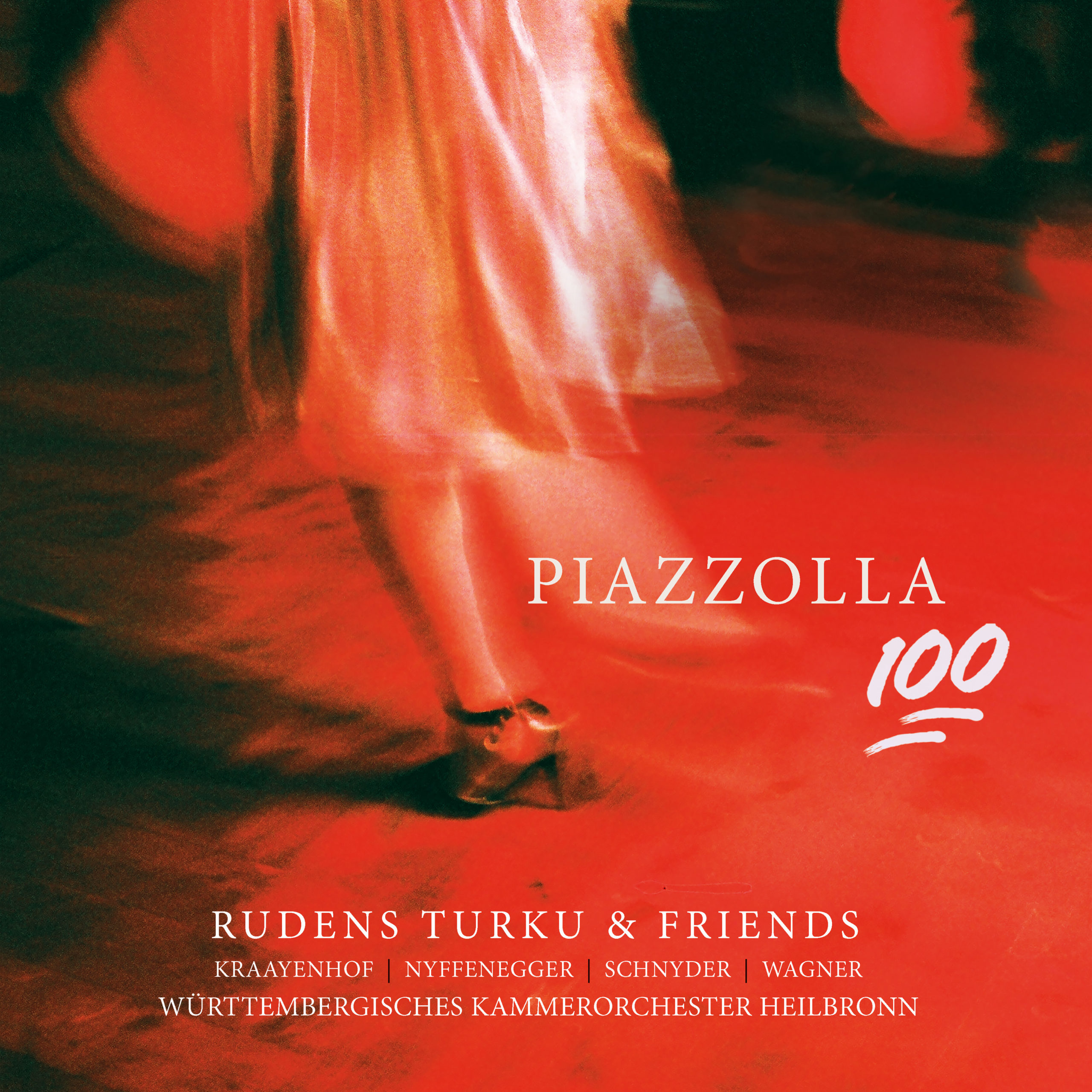 «Piazzolla 100» – Jetzt auch als 180-Gramm-Vinyl erhältlich
Rudens Turkus erfolgreiches Piazzolla-Album «Piazzolla 100» ist nun auch als LP erhältlich.
Auf seinem Album »Piazzolla 100» feiern der Geiger Rudens Turku, einige seiner musikalischen Freunde (darunter der bekannte niederländische Akkordeonist Carel Kraayenhof) und das Württembergische Kammerorchester Heilbronn den argentinischen Musiker und Komponisten Astor Piazzolla: Die erfolgreiche  Aufnahme ist nun auch als 180-Gramm-Vinyl erhältlich.
Die Stücke auf dieser LP – in Besetzungen vom Duo Violine/Klavier bis hin zu Bearbeitungen für Soloinstrumente und Orchester – decken ein breites Spektrum des Schaffens von Piazzolla ab. Von besonderer Bedeutung für den Geiger Rudens Turku ist das Stück «Le grand Tango», das 1982 in Paris geschrieben wurde. Ursprünglich für Cello und Klavier geschrieben, ist es hier in einer Bearbeitung für Violine, Cello und Klavier zu hören.
Rudens Turku ist der ideale Solist für seine komplexen und fesselnden Kompositionen. Gramophone lobt seine Ernsthaftigkeit und musikalische Intelligenz: «Rudens Turku zeigt einen feurigen Eifer, Ernsthaftigkeit und eine klare Intelligenz…. »
……………………………………………………..
On his new album »Piazzolla 100», violinist Rudens Turku, some of his musical friends (among them the famous Dutch accordion player Carel Kraayenhof) and the Württemberg Chamber Orchestra Heilbronn celebrate the Argentine musician and composer Astor Piazzolla: The successful recording is now also available as a 180 gram vinyl.
The pieces on this LP – in instrumentations ranging from duo violin/piano to arrangements for solo instruments and orchestra – cover a broad spectrum of Piazzolla's oeuvre. Of particular importance to violinist Rudens Turku is the piece «Le grand Tango», written in Paris in 1982. Originally for cello and piano, it can be heard here in an arrangement for violin, cello and piano.
Rudens Turku is the ideal soloist for his complex and gripping compositions. Gramophone praises his seriousness and musical intelligence: «Rudens Turku displays a fiery zeal, seriousness of purpose and clear-headed intelligence…. «
Side A
1          Le Grand Tango
2          Balada para un Loco
3          Fuga y Misterio
4          Oblivion
Side B
1          Libertango
2          Milonga del Angel
3          Milonga en Re
4          Adios Nonino
5          Ave Maria
Astor Piazzolla "Ave Maria"